I.S. 6V 7Ah Battery

06-11-2014


If you need a low voltage, long life back-up supply, the Ringway I.S. 6V 7Ah Rechargeable Battery might be the answer. The battery consists of 5 NiCd cells with an integral current limiting circuit to meet Group 1 Ex ia requirements. All electronics are fully encapsulated in a 130mm x 160mm x 80mm Stainless Steel (S/S) housing to withstand the most rugged environmental conditions.
Typical applications include uninterruptable power supplies, backup power for hydraulic packs and power-fail brake supplies. A purpose built smart charger is also available for the battery (Part No. BATTCHG).

Relay Switch for Redundant I.S. Supplies

27-10-2014


Have you ever wanted to have two I.S. power supplies installed and choose which one your system is running off? Then switch between power supplies while they are live? Then search no more! Ringway's new RWREL27V4A provides the solution for I.S. supplies up to 27.5V (Uo) and 4A (Io).
The relay switch achieves this by ensuring that the necessary isolation between the two power supplies is maintained at all times even under fault conditions as required by the Intrinsic Safety concept. Certified for Groups I, IIC and IIIC, no Hazardous area application is off limits. The Relay switch is conveniently designed into a foot-mounted open frame enclosure for DIN or G rail mounting.

Updated - Why choose Ringline white paper

08-10-2014


See the advantages of the Ringline design and operating philosophy in the updated Why choose Ringline white paper.

Ringline 6ch Receiver

25-09-2014


The Ringline six channel digital receiver (RLTX6P) is a galvanically isolated, six channel relay output receiver module, which decodes six discrete channels from the Ringline System and provides two change-over (NO/NC) and four single-throw (NO) relay outputs for use in client circuitry.
The RLRX6P is useful in any industrial process where remote control of up to 6 on/off functions is required. The voltage free relay outputs enable direct integration into existing electrical control systems without any reference to the power system supplying either Ringline or the receiver itself. The relay outputs may be used to slave higher power relays and contactors.

Ringline PLC interface with Tx

24-09-2014


The Ringline Transmitting Synchroniser (RLSYNCTX) brings the proven technology of the Ringline system to PLC and SCADA control systems as a technology independent industrial fieldbus. Operating on just two wires, the fieldbus enables low-cost remote monitoring and control of industrial processes over long distances.
The Transmitting Synchroniser provides the fieldbus carrier signal and an RS-485 port (Modbus -standard) for communication with the PLC or SCADA system for monitoring and control purposes. The transmitting Synchroniser is unlike other Synchronisers in its capability to transmit data over the Ringline via commands from the controlling PLC/SCADA. This enables remote control of digital processes via field receivers.

I.S. Field Powered Receiver

11-06-2014


Remote line-powered indication on Ringline is here with the RLRX2PI_xx! The receiver decodes two discrete channels (A and B of programmed address) from the Ringline System and displays their status via LED's mounted on a sleek IP55 Stainless faceplate. The RLRX2PI_xx is suitable for any application (even hazardous areas) where visual indication of channel status is desired. A range of LED colours is available, nominated by the 'xx' suffix at time of ordering.


Ringline MkII Display with Ethernet/IP

24-01-2014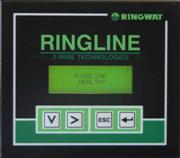 Ringline MkII Display is now available with Ethernet/IP. The Ringline MkII Display with EtherNet/IP AnyBus Card is an invaluable tool for fault finding. Advanced system diagnostics can be viewed locally on the display or remotely via the Ethernet/IP protocol. The information from the entire Ringline System is collated into a single device, meaning PLC and SCADA monitoring of Ringline is greatly simplified, providing a uniform Ethernet/IP Object set for all MkII Ringline systems and RLCONV. This display is highly recommended for all MkII Ringline and RLCONV installations where Ethernet/IP is the protocol of choice.


PT100 Class A Temperature Sensors

17-01-2014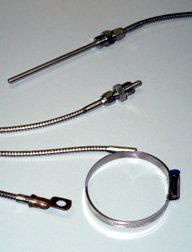 Ringway now offers a series of PT100 Class A Temperature sensors in a range of different packages and special mountings are available upon request. All housings are Stainless Steel (SS) or copper with a SS armoured or braided flying lead. There is also a novel 'FR' option that has an integral hose barb on the end of the sensor for direct connection of 10mm FRAS providing economical mechanical protection.